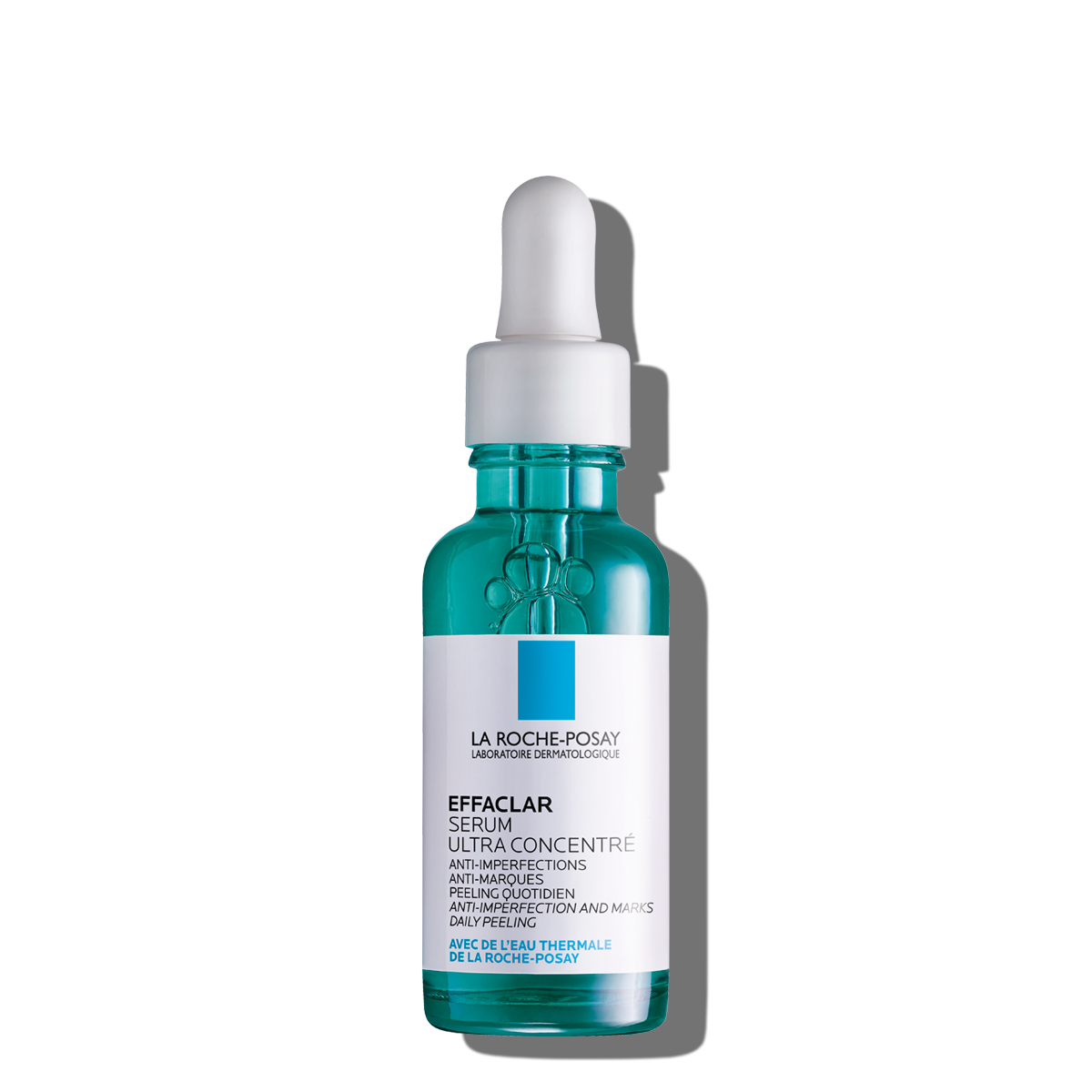 New
FOR ADULT ACNE-PRONE SKIN
Persistent imperfections and marks. Visible pores.
WHAT IT IS

Our new EFFACLAR serum is a concentrate of exfoliating acids combined with soothing niacinamide, that targets blackheads, pimples, marks and visible pores. This no-rinse formula leaves the skin refined and purified.

HOW TO APPLY:
Apply to the whole face on the evening, after cleansing skin with EFFACLAR Purifying Foaming gel.
TEXTURE

lightweight serum quickly absorbed to facilitate and speed up daily application. Non-greasy, non-sticky finish.
KEY BENEFITS

Perfect balance between peeling and soothing actions, the serum unclogs pores and corrects persistent imperfections and marks day after day.
LA ROCHE-POSAY INNOVATION:

The first ultra sensorial La Roche-Posay care to combine such a high concentration of synergic actives: 3 keratolytic acids to reduce imperfections and marks + niacinamide & Thermal spring water for a soothing and anti-redness effect. Anti-recurrence proven efficacy.
Specifically adapted and well-tolerated for acne-prone skin.
Non-comedogenic.

Tested on acne-prone skin. Avoid eye area. In contact with eyes, rinse thoroughly. Use in association with a daily photo-protection product (SPF > 15). Do not apply on open scars.
Validity after opening:
12 Months
IT'S PROVEN
IMMEDIATE AND DURABLE EFFICACY
HIGH CLINICAL EFFICACY
-45% pimples*
-50% blackheads**
-49% marks*
Clinical test, 51 women, once daily application for 4 weeks. * After 28 days ** After 44 days
VISIBLE EFFICACY FROM THE FIRST MORNING
83% Skin looks smoother and texture appears refined
EFFICACY IN 14 DAYS
90% Fine lines are reduced
100% The skin is comfortable
92% Pores are less visible *
*Self assessment, first morning and 14 days.
EXPERT
QUOTE

Avoid friction and scratching when cleansing or applying your skincare. Avoid touching skin as much as possible, keep nails short and avoid sun exposure, as it might worsen blemishes.
DISCOVER THE OTHER
PRODUCTS OF THE RANGE
EFFACLAR is a complete range of anti-imperfection solutions that targets all the stages of the imperfection life cycle with a high efficacy, while ensuring a perfect tolerance.
SENSITIVE SKIN SOLUTIONS
FROM SKIN
EXPERTS
add LRP to homescreen